This post gives instructions on how I combined several recipes into an unusual but highly satisfying dessert.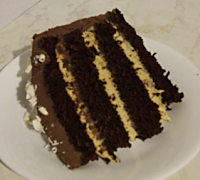 I'd been reading on the Web how mothers make a special treat for their children by combining a box of devil's food cake, a can of pumpkin and some cinnamon to make a Halloween muffin. This got me thinking: If pumpkin and devil's food cake complement each other, why can't that combination serve as the base for an adult dessert? So I set out to construct a pumpkin and devil's food cake, using existing recipes and a little creativity.
For the cake layers, I started with the
Food Network's Devil's Food Cake
recipe, but to enhance the cocoa, I substituted coffee for the water. Next, I made a batch of Dave Lieberman's
Pumpkin Mousse
, without the ginger snaps and substituting a tablespoon of cinnamon for the pumpkin pie spice. I also added a bay leaf to the pumpkin and cream as it simmered for five minutes. Bay leaves intensify the flavor of pumpkin. (Don't forget to remove the bay leaf when the simmering is complete.) I didn't want to use semi-sweet chocolate icing as the Food Network did for their cake because I thought the cake should have some additional sweetness. So, I made a simple milk chocolate ganache by adding 2 cups of simmering cream to a pound of milk chocolate, cooling it completely in the refrigerator and whipping in spoons of confectioner's sugar until it was spreadable.
To assemble this dessert, I halved the layers of devil's food cake horizontally and used generous amounts of the pumpkin mousse to fill between the layers. Next, I iced the cake with the ganache and finished it by sprinkling shaved white chocolate on top.
Although pumpkin and devil's food cake aren't on the top of my list of best desserts, combined they make an exceptional product. The extra sweetness of a milk chocolate ganache complements the modestly-sweetened cake and filling.