This is not a recipe you want to make for your sister's bridal shower (unless your goal is to turn all of the girls into plus-size models). This calorie-laden and hearty treat is something to make for your son's football team when they return from the field (hopefully victorious) after an arduous fall game.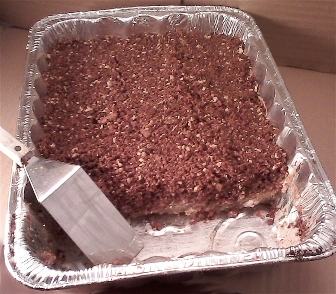 .5 cup walnuts
2 cups (240 grams) unbleached all-purpose flour, sifted
1 teaspoon table salt
3 tablespoons Ceylon cinnamon, divided
3 sticks plus 2 tablespoons (total of 26 tablespoons) butter at room temperature, divided
4.5 cups (864 grams) white granulated sugar, divided
6 Granny Smith apples
2 cups (384 grams) demerara sugar
2 tablespoons lemon juice
2 teaspoons kosher salt
1 teaspoon freshly-grated nutmeg
.5 teaspoon allspice
.25 teaspoon ground cloves
.25 cup brandy
1 package (16 ounces) of lasagna
32 ounces whole milk ricotta at room temperature
8 ounces grated mozzarella cheese at room temperature
Begin by making toasted nuts and shortbread for the topping. Heat your oven to 350 degrees Fahrenheit. Spread .5 cup of walnuts on a baking tray and toast for 8 to 10 minutes. Do not allow the walnuts to burn. Remove from the oven and set aside to cool. Reduce the oven to 325 degrees Fahrenheit.
Combine 2 cups sifted flour, one tablespoon Ceylon cinnamon and one teaspoon of table salt in a bowl. Use a hand whisk to thoroughly mix these ingredients. Using a stand mixer with the paddle attachment, cream 2 sticks (16 tablespoons) of butter for one minute, add .5 cup of white granulated sugar and cream for four minutes. Add flour and salt and stir until combined into a dough. Pat this dough on a baking sheet, about a quarter of an inch thick. Bake in your 325 degree oven for 50 minutes, checking occasionally to be sure the shortbread isn't burning. Some blackening around the edges is acceptable, as it will add flavor to the finished product, but vast majority of the sheet should not burn. (You can continue with this recipe while the shortbread is baking.) When done baking, remove from the oven, prick the shortbread repeatedly with fork and cool on a rack. Turn your oven up to 375 degrees Fahrenheit.
Peel, core, quarter and slice 6 Granny Smith apples to the size you would use for an apple pie. In a large skillet, over medium flame, cook one stick (8 tablespoons) of butter and the apples while occasionally and carefully stirring. Cook until the apples begin to lose their crunch. Add 2 cups of demerara sugar, 2 tablespoons of lemon juice, 2 teaspoons of kosher salt, 2 tablespoons of Ceylon cinnamon, one teaspoon of freshly-grated nutmeg, .5 teaspoon of allspice, .25 teaspoon of ground cloves and .25 cup brandy. Cook while occasionally and carefully stirring, to minimize apple breakage, until the mixture resembles pasta sauce. Set aside to cool.
Following the lasagna's package directions, prepare the water for boiling the pasta but add 4 cups of white granulated sugar to the water. Boil according to the package's directions. (Note that the sugar will make the pasta a bit "chewier" than normal. If you want moister pasta, add a few minutes to the boiling time.)
In a large bowl, combine 32 ounces of whole milk ricotta, 8 ounces grated mozzarella cheese and your cooled apple mixture. Fold slowly and carefully until combined. Melt 2 tablespoons of butter. Using a pastry brush, coat the bottom of your lasagna pan(s) with a thin layer of butter. Then layer your lasagna as usual, alternating layers of pasta with the apple and cheese mixture. Do not put a final layer of pasta on top; your top layer must be the apple/cheese mixture.
Thoroughly wrap your lasagna pan(s) in metal foil. You want to make sure the steam stays in the lasagna while it cooks. Bake the lasagna in your 375 degree oven for 35 minutes. Remove from the oven and let sit, wrapped in the foil for 10 minutes.
While the lasagna is sitting, chop the cooled walnuts in your food processor until fine. Place the ground nuts in a large mixing bowl. Slice your cooled shortbread into small pieces and put them in your food processor. Pulse the food processor until the shortbread is finely ground. Put this into the mixing bowl with the walnuts and stir until thoroughly combined.
When the 10 minutes of cooling for the lasagna is complete, remove the metal foil and spread the shortbread/walnut mixture over the top of the lasagna and serve.