Like hummus? Here's a savory vegetable lasagna for you. It's not difficult to make and it's also a lacto-vegetarian dish.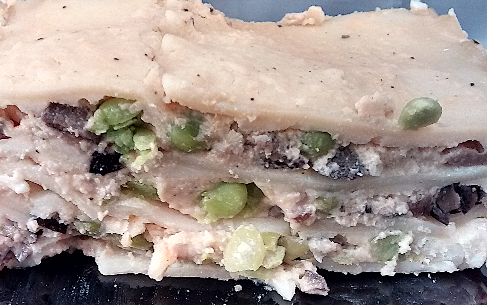 6 ounce can pitted black olives

, drained

7 cloves garlic

.5 cup olive oil

2 15-ounce cans garbanzo beans

(Reserve the liquid.)

.5 cup tahini

, well-stirred

2 teaspoons salt

1 teaspoon black pepper

juice of one lemon

, strained

1 package lasagna pasta

1 pound sliced muenster cheese

12 ounces green peas

, cooked and drained (Microwave-in-the-bag works well.)

8 ounce can sliced mushrooms

, drained
Heat your oven to 375 degrees Fahrenheit.
Put the olives in your food processor. Pulse the processor until the olives are chopped. Move the olives to a holding bowl.
Place the garlic and olive oil in the food processor. Chop the garlic until fine. Open the cans of garbanzo beans and pour the water-like juice into a measuring cup. (You will need one cup of this liquid.) If your beans have any of the viscuous, syrup-like residue, rinse them. Add the garbanzo beans to the processor and process until fully ground. The result should be somewhere between a paste and a sauce. You can move this to a mixing bowl or continue mixing in the food processor. Add the tahini, salt, black pepper, lemon juice and one cup of the garbanzo bean liquid. (If your cans of beans did not produce at least a cup of liquid, add water.) Incorporate all of these ingredients. The result should have the consistency of a tomato sauce.
Cook the pasta according to the package's instructions and drain. Arrange your lasagna pan(s), pasta, hummus sauce, chopped olives, muenster cheese, peas and mushrooms for assembly. Thinly coat the bottom of a pan with the hummus, to prevent sticking. Add a layer of pasta, some olives, peas and mushrooms. Evenly spread some hummus on these ingredients and top with muenster cheese. Continue layering until all ingredients are used, ending with a layer of pasta on top. Put a thin layer of the hummus on top, to prevent the pasta from drying out in the oven.
Wrap your lasagna pan(s) in foil and bake for 35 minutes. After baking, unwrap and cool on a wire rack for at least 10 minutes before cutting and serving.