A light, crisp cookie with a sandy texture and an intense almond taste.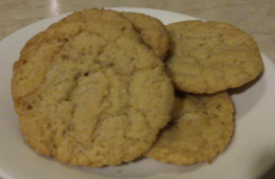 Ingredients
1/2 cup (60 grams) almond flour

2 1/4 cups (285 grams) doppio zero (00) flour

1 teaspoon baking soda

1/2 teaspoon baking powder

1 pinch salt

1 cup butter, cooked to the buerre noisette stage, strained and cooled but still liquid

1 teaspoon almond extract

2 tablespoons Amaretto

1 egg

(at room temperature)

1 1/2 cups (338 grams) sugar and extra for garnish
Instructions
Preheat oven to 375 degrees Fahrenheit.
In the bowel of a mixer, sift together almond flour, 00 flour, baking soda, baking powder and salt.
Stir the almond extract and one tablespoon of the Amaretto into the cooled buerre noisette.
With the mixer on low speed, mix in the buerre noisette mixture and the egg until just combined.
With mixer still on low speed, incorporate the 1 1/2 cups of sugar. The dough will be dry and clumpy.
With mixer still on low speed, add the other tablespoon of Amaretto. The dough will still be dry, but will come together enough to form balls.
Using a small ice cream scoop, drop scoops of dough onto an ungreased cookie sheet, 1 1/2 inches apart. Sprinkle sugar on the tops of the dough balls.
Bake for approximately

12 minutes

.
Cool on tray for 2 minutes before removing cookies. Finishing cooling on a rack.
Equipment needed
saucepan
stove
convection oven
measuring cups or digital scale
measuring spoons
small ice cream scoop
cookie sheets
spatula
mixer (stand mixer preferably)
cooling rack
Further details
Yields about
4 dozen cookies
.
If possible, use a digital scale instead of measuring cups. It results in greater accuracy.
Don't attempt to "make" almond flour in a food processor; buy it from a mill. Milled, not ground, almonds produce a better product.
Preparation time is approximately 20 minutes.
Doppio zero flour can be difficult to find. In the United States, King Arthur Flour makes an excellent version of 00 flour called "Italian Flour".
The cookie may have a slight oily feel; this is normal.
As the dough is dry, you may want to keep it covered when not in use.