This is a rustic cake with a soft texture. Served warm with my banana sauce, it's perfect for cold winter nights.
2.5 sticks (20 tablespoons) of butter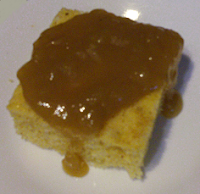 3 cups (360 grams) unbleached all-purpose flour, sifted twice
1 tablespoon (15 grams) baking powder
4 large eggs at room temperature
1 tablespoon vanilla extract
1 cup whole milk at room temperature
2 teaspoons (6 grams) kosher salt (or 1 teaspoon [6 grams] table salt)
2 cups (384 grams) minimally-processed sugar (I use Florida Crystals.)
Generously spray a 12x12" sheet cake pan with baking spray. This cake has a tendency to stick, so you want to make sure you use a lot of spray. Heat the oven to 350 degrees Fahrenheit.
Cook 2.5 sticks of butter to the beurre noisette stage, remove from heat and place on ice or in a cold water bath and stir for about 40 seconds to halt cooking. Remove it from the cold and set aside.
In a medium-sized bowl, combine the flour and baking powder and stir with a fork until thoroughly combined.
Pour the cooled beurre noisette over the flour mixture and using the fork, slowly stir until all of the flour is coated with the beurre noisette. (The beurre noisette should be warm, but not hot enough to cook the flour.)
In a small bowl, add the 4 eggs, cup of whole milk, tablespoon of vanilla and salt and stir until combined and the salt is dissolved. Pour this wet mixture over the flour/beurre noisette mixture and add the 2 cups of minimally-processed sugar. Using a hand whisk, whisk these ingredients until thoroughly combined and smooth. This is a thick batter. If you don't have the strength to whisk it, you could use a hand mixer, but keep it on a low speed to avoid forming too much gluten which could toughen the cake.
Pour into the prepared pan and place in the oven. Bake at 350 degrees Fahrenheit bake for about

23 minutes
, turning the pan once during cooking
. When done, a toothpick inserted in the center should come out clean. While the cake is baking, begin preparing your banana sauce.
Cool in the pan for 10 minutes, then remove from pan and cool some more on a cooling rack. This is a soft and fragile cake, so be careful with it.
When the cake is still warm, but cool enough to slice, cut it into squares and serve topped with the warm banana sauce.