Have a cup of red wine left over from dinner? Here's an easy dessert recipe that puts that wine to use. You can make this cake right after dinner for an evening treat. It requires only one mixing bowl, its ingredients can be mixed by hand and the cake can be served warm.
3 cups (360 grams) all-purpose flour (bleached or unbleached)
, sifted
1 tablespoon baking powder
1 cup canola oil
2 cups white sugar
1 cup of your favorite red wine
1 teaspoon table salt (or 2 teaspoons kosher salt)
.5 teaspoon Anaheim/New Mexico chili powder
(I use the product from
Angelina's Gourmet
.)
1 tablespoon pure vanilla extract
4 eggs
at room temperature
1 ten ounce jar of strawberry jam
powdered sugar
for dusting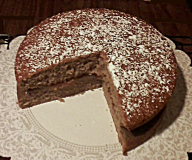 Grease or spray two 9"x3" baking pans. Set aside. Preheat your oven to 350 degrees Fahrenheit.

Sift the flour into a large mixing bowl and add the baking powder. Using a fork, mix the two ingredients until the baking powder is distributed evenly throughout the flour. Pour in the canola oil. Using the fork, mix the canola oil into the flour mixture until the flour is coated completely. Add your sugar to the mixing bowl. Measure out your cup of wine in a measuring cup. To the measuring cup, add the salt, chili powder and vanilla extract. Stir until combined and pour into your mixing bowl. Using a hand whisk, beat together all of the ingredients in the mixing bowl. When thoroughly combined, add your eggs, one at a time, beating thoroughly with the whisk after each addition.

Divide the batter evenly between your pans. Bake in a 350 degree oven for 24-28 minutes, until cake is firm and a toothpick inserted in the center comes out clean. Remove from oven and cool on cooling racks in the baking pans for 10 minutes. Then remove from the pans and cool on a rack until the layers are able to be handled without falling apart.

Level your cake layers and place one on your serving plate. Spread all of the jam on the layer on the plate. Place the other layer on top. Sprinkle powdered sugar on top of the cake and serve while still warm.