Served warm, this soft and lemony Chardonnay cake is the perfect base for a scoop of cold ice cream. Be sure to use an unoaked Chardonnay when making this cake. If the wine has come into contact with wood, you could end up with a "wood chip" flavor in your cake.
3 cups (360 grams) all-purpose flour (bleached or unbleached), sifted
1 tablespoon baking powder
1 cup canola oil
2 cups (384 grams) white sugar
1 cup of an unoaked Chardonnay
1 teaspoon table salt (or 2 teaspoons kosher salt)
zest of one lemon
4 large eggs at room temperature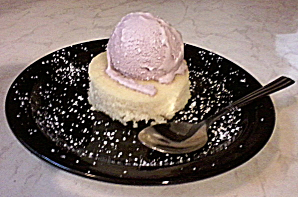 Grease or spray one 12"x12" baking sheet. Set aside. Preheat your oven to 350 degrees Fahrenheit.

Put your sifted flour into a large mixing bowl and add the baking powder. Using a fork, mix the two ingredients until the baking powder is distributed evenly throughout the flour. Pour in the canola oil. Using the fork, mix the canola oil into the flour mixture until the flour is coated completely. Add your sugar to the mixing bowl. To your cup of chardonnay add the salt and stir until combined. Pour it into your mixing bowl. Place a microplane grater over your mixing bowl and remove the zest of the lemon into the bowl, making sure you remove only the zest and not the pith. Using a hand whisk, beat together all of the ingredients in the mixing bowl. When thoroughly combined, add your eggs, one at a time, beating thoroughly with the whisk after each addition.

Pour the batter into your pan. Bake in a 350 degree oven for

22

-

26 minutes

, until cake is firm and a toothpick inserted in the center comes out clean. Remove from oven and cool on a cooling rack in the baking pan for 10 minutes. Then remove from the pan.

To serve, use a biscuit cutter and a thin spatula. Cut your warm cake with the biscuit cutter and leave the biscuit cutter in the cake. Slide the spatula under the cake and lift the slice onto a dessert plate. Be careful, this is a fragile cake. Once on the plate, lift the biscuit cutter off. Top the cake slice with a scoop of ice cream.