No cows or chickens are employed in the production of this cake! Of all the recipes I've developed, this is one of my favorites. Someone described it as "like pound cake, only ten times better!" Although the filling contains no apples, the combination of ingredients provides a pleasant apple-like flavor.
Don't make any ingredient substitutions when making this cake. Its quality is the result of using very specific ingredients. Depending on your location, duck eggs can be difficult to find. Try local farms and farmers' markets. If you are close to northwest New Jersey you can try the farm I use, Churutabis Farm.
Store this cake in the refrigerator and allow the slices to reach room temperature before serving.
3 cups (360 grams) unbleached all-purpose flour
, sifted
1 tablespoon baking powder
1 cup canola oil
1 cup goat's milk
at room temperature
1 teaspoon table salt (or 2 teaspoons kosher salt)
1 tablespoon pure vanilla extract
2 cups (384 grams) minimally-processed sugar
(I use
Florida Crystals
.)
4 large duck eggs at room temperature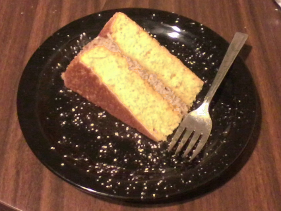 Heat your oven to 350 degrees Fahrenheit. Spray or grease two 9" round baking pans. Set aside.

Put your sifted flour and baking powder into the mixing bowl of a stand mixer fitted with the paddle attachment. Turn the mixer to its lowest speed and allow the baking powder and flour to combine for 2 minutes. Pour in the canola oil. Turn off the mixer when all of the flour is coated with the oil.

Add the salt and vanilla extract to the goat's milk and stir until the salt is dissolved. Pour into the mixing bowl. Add your sugar to the mixing bowl and turn the mixer to its lowest speed. When these ingredients are thoroughly combined, add the duck eggs, one at a time, mixing completely after each addition. (Duck eggs are more difficult to crack and mix than chicken eggs.)

When finished adding the eggs, turn your mixer up to medium speed and allow the batter to beat for 2 minutes. Turn off the mixer and divide your batter evenly between the pans.

Bake for

25

-

29 minutes

, until the cake is firm and a toothpick inserted in the center comes out clean.

Remove from the oven and cool in the pans on a cooling rack for 10 minutes. Remove from pans and cool (top side up) on cooling racks until room temperature.
Filling:
1 cup walnuts
8 ounces (227 grams) soft, unripened goat's cheese
at room temperature
.5 cup (170 grams) honey
1 tablespoon Ceylon cinnamon
(I use
Indus Organic
)
Heat your oven to 350 degrees Fahrenheit. Toast the walnuts in the oven for 8 to 12 minutes, until they are slightly darker and fragrant, but not burned. Set aside to cool.

When your walnuts are cool, put them in the food processor and grind until fine. In a medium-sized bowl, combine all of the ingredients and stir until mixed.

If this filling is too runny (highly probable in warm environments), put it in the refrigerator to firm it up before filling the cake. This may take some time, depending on the temperature of your ingredients.

When your filling is ready, level your cake layers and discard any excess cake. Put one layer on your plate and top with all of the filling. Even out the filling with the back of a spoon or offset spatula. Place your other layer on top.
Topping:
1 tablespoon Ceylon cinnamon
3 tablespoons confectioner's sugar
In a small bowl, stir the cinnamon and sugar. Sprinkle over the top of the cake. Save any excess for sprinkling on slices.