This is not an ice cream for children. The wine gives it a mature flavor, tempered by the semi-sweet chocolate. It's also not an everyday ice cream, but I find it to be a welcomed occasional change from the usual ice cream flavors.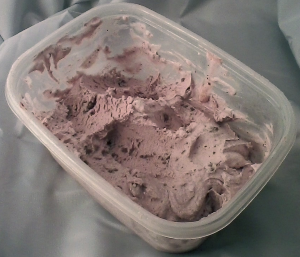 2 cups of Zinfandel
3/4 cup white sugar
1 teaspoon kosher salt (or 1/2 teaspoon table salt)
2 cups heavy cream
1 cup whole milk
Combine the Zinfandel, sugar and salt in a heavy saucepan and place over medium flame. Allow to slow-boil, reducing. As the mixture becomes more viscous it might bubble-up, just turn the flame down. Reduce to 2/3 cup. You can pour it into a heat-proof measuring cup to check, and return to the saucepan to continue reduction if necessary. When finished, remove from the flame and allow it to cool until it is warm, but not hot. Add the cream and milk and stir until fully incorporated. Put it in an airtight container and refrigerate overnight.
For freezing:
4 ounces of semi-sweet chocolate, chopped to small bits
Freeze the batter in your ice cream maker. A few minutes before finished, drop the chocolate bits into the ice cream maker allowing it to stir; or once finished, fold the chocolate into the frozen batter. Freeze until set.