Jaggery is a sugar without comparison. This recipe combines the unique flavor of jaggery with walnuts and vanilla to produce a bar cookie appropriate for many occasions.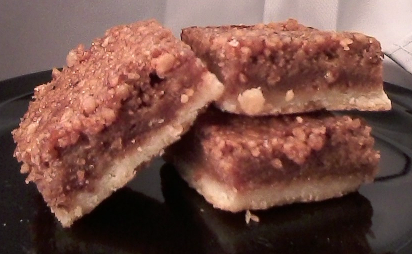 1 cup (120 grams) walnuts
.5 cup water
192 grams jaggery
.5 cup butter at room temperature
.5 cup (60 grams) confectioner's sugar
1 cup and 5 tablespoons all-purpose unbleached flour, sifted and divided
2 large eggs at room temperature
1 teaspoon vanilla extract
.5 teaspoon baking powder
.25 teaspoon table salt
Heat your oven to 350 degrees Fahrenheit. Spread the walnuts on a baking sheet and toast them for 8 to 10 minutes, making sure they do not burn. Remove and set aside to cool. Turn your oven up to 375 degrees Fahrenheit.
In a saucepan, combine the .5 cup of water and the 192 grams of jaggery. Place the saucepan over a very low flame and stir until all of the jaggery is dissolved in the water. Using a fine-meshed sieve, strain the jaggery/water mixture into a heatproof bowl. (You are doing this to remove any impurities that might be in the jaggery.) Set the bowl aside to cool.
Grease or spray an 8"x8" baking pan. Set aside. Add the .5 cup of butter to the bowl of your stand mixer. Cream on medium speed for one minute. Add .5 cup of confectioners' sugar and cream on medium speed for four minutes. Turn your mixer as low as possible and stir in 1 cup (120 grams) of flour. Continue stirring until a dough forms.
Press this dough on the bottom of your 8"x8" pan, making sure the dough is of even thickness. (I use the back of a spoon to even it out.) Bake in a 375 degree oven for 17 minutes.
While the dough is baking, put your cooled walnuts into a food processor and chop until finely ground. Add 2 eggs to your jaggery/water mixture and whisk by hand until combined. Add 1 teaspoon of vanilla extract, the chopped walnuts, .5 teaspoon of baking powder and .25 teaspoon of salt and whisk vigorously to be sure the ingredients are distributed evenly. Add your 5 tablespoons of flour, a tablespoon at a time, whisking after each addition.
When your dough is done baking, remove the pan from the oven and pour the liquid mixture into the pan. Be sure it is distributed evenly over the baked dough. Return it to the oven and bake for 20-25 minutes, until set.
Remove the pan from the oven and cool on a rack until room temperature. Once at room temperature, use a sharp knife to cut around the sides, making sure the sides do not stick. Then cut into bars of desired size. Carefully remove the bars from the pan and serve.