In my ongoing investigations on using canola oil to make cake, I have created a recipe for yellow cake, light and fluffy–free of butter–but with a pleasant vanilla flavor. If you would rather make white cake, please see my article "Canola Oil and White Cake".
3 cups (360 grams) bleached all-purpose flour, sifted
1.5 tablespoons baking powder
.75 cup canola oil
1.25 cups milk at room temperature
1 teaspoon kosher salt (or .5 teaspoon table salt)
2 teaspoons vanilla extract
1.25 cups (240 grams) minimally-processed or granulated white sugar
6 egg yolks from large eggs at room temperature
.5 cup (96 grams) granulated white sugar
Heat oven to 350 degrees Fahrenheit. Grease or spray a 12" x 12" baking pan. Set aside.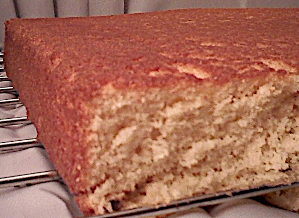 In a mixing bowl, combine the all-purpose flour and the baking powder. Using a fork, stir until the baking powder is evenly distributed in the flour. Pour in the canola oil and stir with a fork until the mixture forms a gummy paste. This is difficult to do as the mixture will be dense, but it is important that all of the flour is incorporated in the oil.

In another bowl, combine the milk, salt and vanilla. Stir until the salt is dissolved. Pour this milk mixture into the flour mixture. Add the 1.25 cups of sugar. Using a hand whisk, whisk these ingredients together. The mixture will be dense, but you must be sure it is thoroughly mixed. When finished mixing, it should have a satiny appearance.

With an electric mixer, beat the egg yolks and .5 cup of white sugar on high speed until at the ribbon stage, approximately 2.5 to 3 minutes. Fold the flour mixture, in thirds, into the egg yolks being careful to deflate the egg yolks as little as possible.

Pour into your prepared baking pan and bake for approximately

26

to

28 minutes

, until a toothpick inserted in the center comes out clean. Remove from the oven and cool in the baking pan on a wire rack for 10 minutes. Remove the cake from the pan and cool on the rack until room temperature.