This very simple vegan cake can be used in a wide array of applications. Not a vegan or vegetarian? Don't worry: the coconut, applesauce and vanilla provide a flavor that anyone can enjoy.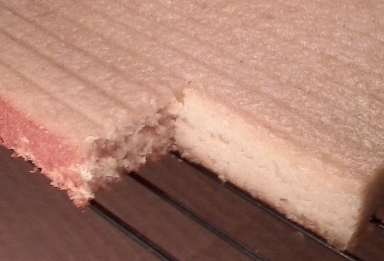 3 cups (360 grams) all-purpose flour, sifted
1 tablespoon baking powder
1 cup canola oil
1 cup coconut milk at room temperature
2 teaspoons kosher salt (or one teaspoon table salt)
1 tablespoon vanilla extract
2 cups (384 grams) minimally-processed sugar (I use Florida Crystals.)
1 cup unsweetened applesauce at room temperature
Oil or spray a 12"x12" baking pan and set it aside. Heat the oven to 350 degrees Fahrenheit.
Sift three cups of all-purpose flour into the bowl of a stand mixer fitted with a paddle attachment. Add a tablespoon of baking powder. Using the lowest setting on the mixer, mix these ingredients for one minute. Turn off the mixer and add one cup of canola oil. Turn the mixer to its lowest setting and mix the flour and canola oil until all of the flour is incorporated in the oil. Turn mixer off.
Add two teaspoons of kosher salt (or one teaspoon of table salt) and one tablespoon of vanilla extract to a cup of coconut milk and stir until the salt is dissolved. Pour into the mixer's bowl. Add two cups of minimally-processed sugar and one cup of applesauce to the bowl. Turn the mixer to its lowest setting and stir until all of the ingredients are combined. Turn the mixer off and use a spatula to scrape the bottom and sides of the bowl and turn the mixer to its lowest speed to make sure all of the ingredients are combined. Turn the mixer up to medium speed and allow the batter to beat for three minutes.
Pour the batter into the prepared baking pan. Rap the pan on the counter several times to be sure the batter is evenly distributed in the pan. Bake at 350 degrees Fahrenheit for 25-29 minutes, until a toothpick inserted in the center comes out clean. Remove from the oven and allow it to cool in the pan for ten minutes. Remove from the pan and cool, top side up, to room temperature on a rack.
Has this recipe helped you with a vegan or vegetarian lifestyle? You can discuss it below.