This is a culinary work-in-progress. I'm using a rather standard chocolate chip cookie recipe (inspired by the Nestlé Toll House recipe), but experimenting with using caraway as a flavoring.
In an April 2014 culinary lab, I used this experimental recipe as a foundation for another two: Rye Chocolate Chip Cookies and Rye Chocolate Chip Cookies with Orange Zest.
If you'd like to discuss the use of caraway in chocolate chip cookies, you can discuss below.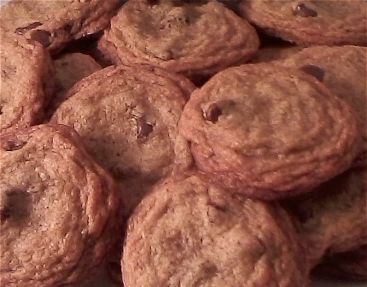 2 teaspoons caraway seeds
2.25 cups (270 grams) all-purpose flour
1 teaspoon baking soda
2 sticks (16 tablespoons) butter
.75 cup (144 grams) white sugar
.75 cup (165 grams) packed dark brown sugar
2 teaspoons kosher salt
2 large eggs at room temperature
12 ounces semi-sweet chocolate bits
Heat your oven to 375 degrees Fahrenheit.
Using a mortar and pestle, grind the caraway seeds, one teaspoon at a time, forcefully to open them up a bit and release their flavor. You won't be able to turn them into powder, but you should grind them for several minutes to maximize the caraway flavor.
In the bowl of a stand mixer fitted with a paddle attachment, combine the flour, baking soda and ground caraway seeds. Turn the mixer to its lowest setting and stir these ingredients until combined, at least one minute.
In a sturdy saucepan, melt the butter over low heat. Once melted, turn off the heat and stir in the white and dark brown sugars and the salt. Continue to stir until all of these ingredients are dissolved. Then pour into the stand mixer's bowl.
Turn the mixer to its lowest setting and stir until all of the flour is coated with the melted butter. Then add the eggs, one at a time, making sure they are fully incorporated after each addition. Then pour in the semi-sweet chocolate bits and continue stirring until evenly distributed in the dough.
Using a small ice cream scoop, drop even amounts of dough on ungreased cookie sheets in the 375 degree oven. Begin checking them after 8 minutes and bake until the sides and bottoms are browned, but not burned. Remove from the oven and allow to cool on the baking pan for a couple of minutes before transferring them to a wire rack to cool to room temperature.