This animal-free cake packs a lot of apple flavor. It's a dense cake that could be topped with fruit, although it is moist enough to be eaten plain. It also makes a good breakfast treat.
Has this recipe helped you with a vegan or vegetarian lifestyle? You can discuss it below.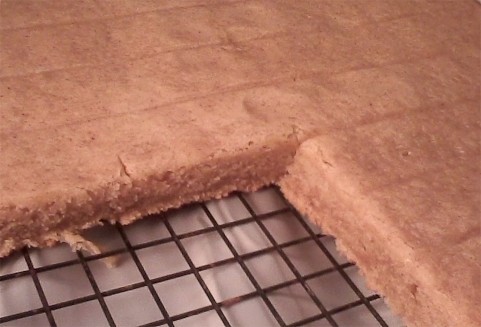 3.5 cups (420 grams) unbleached all-purpose flour, sifted

1 tablespoon Ceylon cinnamon

1 tablespoon baking powder

1 cup (220 grams) canola oil

1/3 cup apple cider

2 teaspoons kosher salt

2 teaspoons vanilla extract

1 cup (246 grams) unsweetened applesauce

1 1/3 cups (447 grams) light agave nectar
Heat your oven to 350 degrees Fahrenheit. Oil or spray a 12"x12" baking pan and set it aside.
In the bowl of a stand mixer fitted with the paddle attachment, combine the flour, cinnamon and baking powder. Turn the mixer to its lowest setting and allow these ingredients to combine for at least one minute. Turn the mixer off.
Pour the canola oil into the mixer's bowl and turn the mixer to its lowest setting. Mix until all of the dry ingredients are coated with the canola oil.
In a small bowl or measuring cup, combine the apple cider, salt and vanilla extract and stir until the salt is dissolved. Pour this mixture into the mixer's bowl. Add the applesauce and nectar to the mixer's bowl and turn the mixer to its lowest setting to combine these ingredients. Turn the mixer off and use a spatula to scrape the sides and bottom of the bowl to make sure the ingredients are combined. Turn the mixer to medium speed and allow the batter to beat for three minutes.
Pour the batter into your prepared pan and bake in the 350 degree oven for 22-24 minutes. This cake is difficult to test when it is done. You want it to pull away from the sides, but not be burned on the sides. You want it to be firm in the center and you want a toothpick inserted in the center to come out clean. Do not underbake this cake. Because of the agave, it will be soggy if underbaked.
When finished baking, remove from the oven and cool in the baking pan on a wire rack for 10 minutes. Remove the cake from the pan and cool to room temperature, top up, on the rack.