This dessert looks like a bagel with cream cheese, but looks can be deceiving. It's a baked hazelnut and cocoa doughnut with a Frangelico white chocolate ganache filling.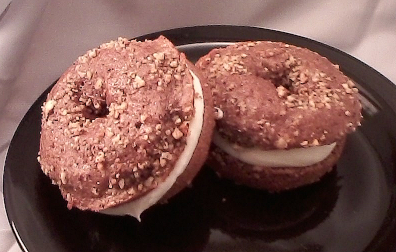 Making the ganache
1 cup heavy cream

1 pound, 4 ounces white chocolate, chopped

pinch of salt

1 tablespoon butter

.25 cup Frangelico
Put the cream, white chocolate and pinch of salt in a heavy saucepan over low heat and stir until all of the chocolate is melted. Remove from heat. Add butter and Frangelico and stir until the butter is melted and incorporated. Put a silicone pad on a cookie baking tray and carefully pour the mixture on the pad. Refrigerate for at least an hour, preferably longer, to make the ganache firm.
Making the doughnuts
1 cup of hazelnuts

2 cups unbleached all-purpose flour, sifted

2 tablespoons dutch-processed cocoa

1 cup white or minimally-processed sugar

2 teaspoons baking powder

2 teaspoons kosher salt or 1 teaspoon table salt

.75 cup whole milk at room temperature

2 eggs at room temperature, beaten

2 tablespoons butter, melted
Heat oven to 350 degrees Fahrenheit. Distribute the hazelnuts evenly on a baking sheet. Toast the hazelnuts for about 7 minutes, checking them so they don't burn. Remove from the oven and set aside to cool. Turn your oven up to 425 degrees Fahrenheit.
Spray or grease a doughnut baking pan and set aside.
In a mixing bowl, combine the flour, cocoa, sugar and baking powder. Whisk until thoroughly combined, at least one minute.
Add the salt to the milk and stir until the salt is dissolved. Pour into the mixing bowl. Add the eggs and butter to the mixing bowl and beat by hand or using an electric mixer on a low speed, until just combined. Do not overbeat.
Using a food processor, grind your toasted hazelnuts until fine.
Pour the batter into a pastry bag or a plastic bag with a corner cut off. Pipe the batter into your doughnut pan until each reservoir is ¾ full. Rap the pan on the counter several times to make sure the batter is even. Sprinkle nuts generously on the batter.
Bake for 8 minutes, or until the doughnuts are firm. Remove from oven and allow to cool in the pan for 4 minutes. Remove from pan and allow them to cool on a rack.
You should get 12 donuts.
Assembling the finished product
confectioners' sugar, as needed
Spoon all of the ganache off of the silicone pad and into the mixing bowl of a stand mixer fitted with the whisk attachment.
Whisk the ganache at a high speed adding spoonfuls of confectioners' sugar until it resembles cream cheese at room temperature. You want it to hold its shape, but not be dry.
Carefully slice your doughnuts in half, lengthwise. Fill a pastry bag or plastic bag with a corner cut off with the whipped ganache. Pipe generous amounts onto the bottoms of the doughnuts and press the tops back on. Arrange them on a tray, wrap them well as they can dry out and refrigerate to firm them up. Take them out of the refrigerator long enough to take the chill off before serving.