This easy and delicious cookie is a great way to not let some extra peanuts go to waste. You can use salted cocktail or salted dry roasted peanuts.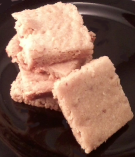 .75 cup minimally-processed sugar (I use Florida Crystals.)

2 sticks (half pound) high-quality butter at room temperature

1 teaspoon vanilla extract

2 cups unbleached all-purpose flour

1 cup salted cocktail (or salted dry roasted) peanuts, chopped coarsely
Heat oven to 300 degrees Fahrenheit. Spray or grease a cookie sheet, 10"x13" or larger.
In a stand mixer with the paddle attachment, cream butter and sugar on medium speed for at least 3 minutes, until light and fluffy. Add vanilla and mix. Add flour and peanuts and mix on lowest speed, scraping sides as necessary, until the dough is the texture of clay.
Pat the dough onto the sheet forming a 10"x13" rectangle of even thickness. You can use plastic wrap or a latex glove so the dough does not stick to your hand. You can drag the back of a spoon over the top of the patted dough to even it out. To allow steam to escape while baking, use a fork to poke many holes in the dough.
Bake until the edges are golden brown, about 35 minutes.
Remove from oven, cut into squares or rectangles and transfer to a rack to cool.
Store in an airtight container.