This is an airy cake with a mild flavor and a supreme texture. It's perfect for a light dessert after a late spring or summer meal.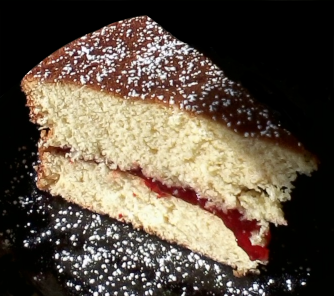 half pound (2 sticks) of butter for making ghee

3 cups (360 grams) bleached all-purpose flour, sifted

1 tablespoon baking powder

1 cup pulp-free orange juice

2 teaspoons kosher salt (or 1 teaspoon table salt)

2 teaspoons vanilla extract

1 teaspoon rose water

2 cups minimally-processed sugar (I use Florida Crystals.)

4 large eggs at room temperature
Heat your oven to 350 degrees Fahrenheit.
Put a coffee filter into a metal hand-held strainer and place it over a heat-proof bowl. Set this aside, but within reach. Place the butter in a sturdy saucepan and cook it to the beurre noisette stage. When finished, immediately pull the saucepan from the heat and carefully strain the beurre noisette through the coffee filter and into the bowl. You will have trouble getting all of the melted butter through the coffee filter, so coax it with the back of a metal spoon to filter as much butter as possible into the collection bowl. (In this recipe, you won't use the caramelized pieces of butter solids that remain in the coffee filter, but you needn't throw them away. You can add them to mashed potatoes for additional flavor.) What collects in the bowl is called "ghee". Set it aside.
Grease or spray two 9"x3" round baking pans.
Add the sifted flour and baking powder to the bowl of a stand mixer fitted with the paddle attachment. Turn the mixer on its lowest setting and allow these ingredients to mix for one minute. When the ghee has cooled to being warm to the touch (but not hot), add it to the flour mixture. Turn the mixer on to its lowest speed and allow all of the flour to be coated with the ghee.
Add the salt, vanilla and rose water to the orange juice and stir until the salt is dissolved. Add the orange juice mixture to the mixer's bowl containing the flour and ghee. Add the minimally-processed sugar to the mixer's bowl. Turn the mixer on low and mix these ingredients thoroughly, scraping the bottom of the bowl as necessary.
Add the eggs, one at a time, mixing thoroughly on low speed after each addition. Scrape the bottom of the bowl to make sure all ingredients are mixed.
Turn the mixer up to medium speed and allow the batter to beat for three minutes.
Evenly divide the batter between the baking pans and bake for 28-32 minutes, until a toothpick inserted in the center comes out clean.
Remove from the oven and cool in the baking pans, on a wire rack, for ten minutes. Remove the cakes from the baking pan and cool, right side up, on racks to room temperature.
This cake can be served filled with preserves and topped with powdered sugar.