Jaggery, a cooked cane juice product from India, provides a complex flavor not found in any other sweetener. Here, I combine jaggery with cream cheese to produce a versatile frosting.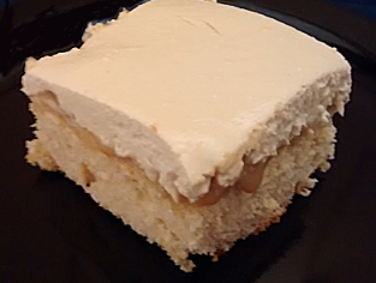 198 grams solid jaggery, grated

1/2 teaspoon kosher salt (or 1/4 teaspoon table salt)

2/3 cup almond milk

1/4 cup unbleached all-purpose flour

2 tablespoons cornstarch

1 teaspoon almond extract

zest of one lemon

2 tablespoons strained lemon juice

16 ounces full-fat (American) cream cheese cut into tablespoons, at room temperature
Add the grated jaggery, salt and almond milk to a sturdy saucepan and place it over a medium to low flame. Stir until the jaggery is dissolved. To remove impurities, strain this mixture through a fine sieve and use the back of a spoon to push the mixture through the sieve. Wash the saucepan and return the strained jaggery mixture to the saucepan.
Add the flour and cornstarch to the jaggery mixture. Cook over a medium flame until thick, then strain again using a medium sieve to remove any clumps of flour. Store in a heat-proof container and refrigerate for one hour, or until completely cooled.
Place the refrigerated mixture in the bowl of a stand mixer. Add the almond extract. Place a Microplane grater over the bowl and grate the zest of a lemon into the bowl. Add two tablespoons of strained lemon juice. Fit the stand mixer with the wire whisk and beat until combined.
Add the cream cheese a tablespoon at a time, beating after each addition. When all of the cream cheese is incorporated, increase the mixer's speed and whisk until the frosting is smooth.