Almonds, orange, lime, rose and rum combine in bringing the flavor of a Mai Tai to a cookie.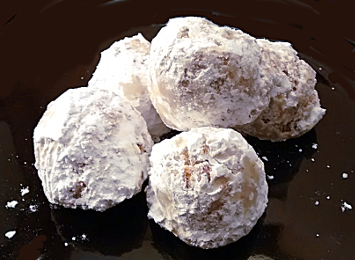 2 cups whole almonds

8 or 9-oz package of vanilla wafers

2 cups confectioner's sugar (additional for rolling)

zest of one orange

zest of two limes

1 teaspoon almond extract

.5 teaspoon rose water

.25 cup dark rum

.25 cup light corn syrup
Warm your oven to 350 degrees Fahrenheit and toast the almonds on a cookie sheet. Do not let the almonds burn; they should be fragrant when finished toasting. Set the almonds aside to cool.
In a food processor, grind the vanilla wafers until fine. Place the ground wafers in a mixing bowl. Add the confectioners' sugar to the mixing bowl. When the almonds are room temperature, grind them in the food processor until fine. Place the almonds in the mixing bowl.
In another bowl, combine the orange zest, lime zest, almond extract, rose water and rum. Stir throughly. Pour into the dry ingredients. Add the corn syrup and stir until combined.
Scoop the cookie mixture from the bowl and roll in balls then roll the balls in confectioner's sugar.
Store in an airtight container. The flavor of these cookies may intensify with storage.