An ancient ingredient, camelina is making a culinary comeback. As an oil with a healthful profile, camelina oil imparts a nutty and woody flavor. Some take immediately to this unexpected taste; others acquire appreciation with time. In this recipe I combine orange and honey to augment the flavor of camelina oil. This cake can be served as a dessert to a hearty meal, as a snack or for breakfast.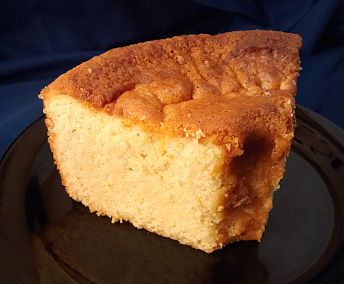 6 whites from large eggs, at room temperature

.5 teaspoon cream of tartar

.5 cup white sugar

3 cups bleached all-purpose flour

1 tablespoon plus .5 teaspoon baking powder

1 cup camelina oil

.75 cup whole milk at room temperature

1 teaspoon almond extract

1 teaspoon kosher salt (or .5 teaspoon table salt)

1 cup almond flour

zest of one orange

1.25 cups honey
Heat the oven to 325 degrees Fahrenheit. Grease and flour or spray a 10" diameter tube pan.
Fit a stand mixer with a wire whisk. Add the egg whites to the mixer and whip on medium-high speed until frothy. Add the cream of tartar. Whip on medium-high to high speed until soft peaks form. Gradually add the white sugar and whip until firm, glossy peaks form. Remove the egg whites from the mixer bowl and put in a bowl large enough for folding.
Fit the mixer with the paddle attachment. In a small bowl, whisk the baking powder and flour until the baking powder is distributed evenly throughout the flour. Put the mixture into the mixer's bowl. Add the camelina oil and mix on the mixer's lowest setting until all of the flour is coated with the oil.
Add the almond extract and salt to the milk and stir until the salt is dissolved. Add to the mixer's bowl. Add the almond flour and minimally-processed sugar. Put a Microplane grater over the mixer's bowl and remove the zest of the orange into the bowl. Beat on low speed until fully incorporated. Check the bottom of the bowl to make sure all ingredients are incorporated and smooth.
Stir approximately .25 cup of the egg whites into the batter. Then fold the batter into the egg whites, in thirds, until fully incorporated. Be careful to deflate the egg whites as little as possible.
Pour into the tube pan and bake for 1 hour, and 10 minutes or until a toothpick inserted in all areas of the cake comes out clean. Remove from oven and allow to sit for 10 minutes on a wire rack, then remove from pan and cool completely on a wire rack.