Gelato is a rich and satisfying alternative to ice cream. This gelato, flavored with grappa and offering copious amounts of nuts and fruit, is sure to please the mature palate.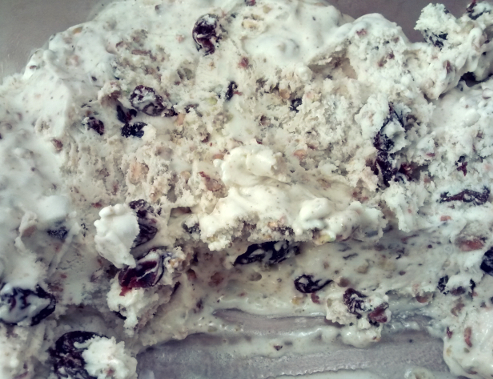 4 yolks from large eggs

.75 cup sugar

.75 cup whole milk

1 cup heavy cream

pinch of salt

.25 cup cold milk

2 tablespoons grappa

1 cup (120 grams) pistachios

.5 cup (80 grams) raisins
Begin warming your oven to 350 degrees Fahrenheit. In a heatproof bowl, whisk the egg yolks and sugar until well combined.
In a sturdy saucepan, heat the .75 cup of whole milk, the heavy cream and salt to almost a simmer. Remove from the heat and use it to temper the egg mixture. Begin by whisking a tablespoon at a time of the hot mixture into the eggs. When the eggs are hot, pour the remaining hot milk and cream into the eggs in a slow stream, whisking constantly. When the saucepan is empty, rinse it throughly and dry it.
Pour the egg and dairy mixture back into the saucepan and return it to the heat. Stirring constantly, heat the mixture until it thickens into a custard. You must not allow it to boil, so whenever you see the first hint of the mixture beginning to simmer, remove it from the heat, continuing the stirring. Allow the mixture to cool a bit, then return it to the heat to continue cooking. Cooking is complete when the custard coats the back of a spoon and when you run your finger across the back of the spoon it leaves a clear path, without the custard running into the clearing. To arrest cooking, remove from the heat and stir in the cold milk.
Stir in the grappa, then remove any egg clumps by filtering the custard into a heatproof container. Place the container in the coldest part of your refrigerator.
Spread the pistachios over a cookie sheet and roast them in the oven. Begin checking after four minutes. When the nuts are toasted, they will be darkened and fragrant, but be sure they do not burn. Allow the nuts to cool to room temperature then chop them to the desired size. Put the nuts in the refrigerator. Also refrigerate the raisins.
It's best to allow your ingredients to refrigerate overnight so they are as cold as possible. When ready to freeze your gelato, put a spatula and a bowl large enough for folding into the freezer. Freeze the gelato according to your ice cream maker's directions. When the gelato is frozen, place it into your cold bowl and use the cold spatula to fold in the pistachios and raisins. Store the gelato in the freezer.