My favorite cheesecake recipe had always been Wolfgang Puck's Spago Cheesecake. For years I tried to create something of the same excellence, but I couldn't. Until now. This recipe makes a 6" cheesecake, which can be used for a dinner party of up to eight people. (Assuming they don't want seconds, which they probably will.)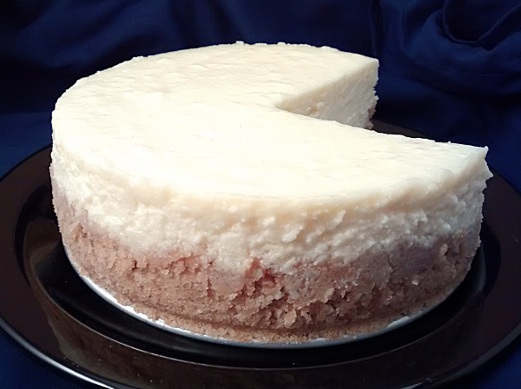 100 grams vanilla wafers

2 tablespoons butter, melted

2 bars (total of 16 ounces, American, full-fat) cream cheese at room temperature

2 large eggs, lightly beaten and at room temperature

.25 cup (60 grams) sour cream at room temperature

.75 cup (144 grams) sugar

2 tablespoons grappa

.25 teaspoon table salt
To make the crust, heat your oven to 350 oven degrees Fahrenheit. Grind the vanilla wafers to a powder in a food processor. Combine with the melted butter. Use a fork to work the butter into the ground wafers. Stir until the butter is evenly distributed. Put these crumbs into an assembled 6" round springform pan. Using your fingers or the back of a spoon, press the crumbs into the bottom and sides of the pan, making sure you seal the seam of the pan with crumbs so your batter won't leak. Bake the pan in your oven for 10 minutes.
Remove the pan and cool it on a wire rack. Turn your oven to 300 degrees Fahrenheit.
Combine the remaining ingredients in a mixing bowl. Stir until they come together, then beat this batter for 4 minutes on medium-low speed, pausing occasionally to scrape the bottom and sides of your mixing bowl.
In a large saucepan, begin boiling water for your cheesecake's water bath. When your springform pan is cool enough to handle, carefully wrap the bottom and sides multiple times with foil. This is to prepare your pan for the water bath, so make sure the pan is sealed well. Choose a baking pan large enough to serve as the bottom of the water bath. The pan must allow a few inches of water around the sides of the springform pan, and must be deep enough to allow the springform pan to be submerged about halfway up its side. Place your springform pan into the middle of this pan.
When your water is boiling, place the pan assembly into the middle of your oven. Carefully fill the bottom of your water bath with the boiling water. Bake your cheesecake for about 2 hours, until the cake is set. Keep some water boiling in case you need to replenish the water bath during baking.
When baked, using heat-proof gloves, remove the cake from the water and transfer to a wire cooling rack. Carefully remove the tin foil. Cool the cake until warm, but not hot, before storing it in the refrigerator. Wait for it to cool completely in the refrigerator, but when ready to serve, allow cake slices to reach room temperature before serving.