These hearty dinner rolls are perfect for winter dinners. You won't need to serve butter as they have enough butter and olive oil in them.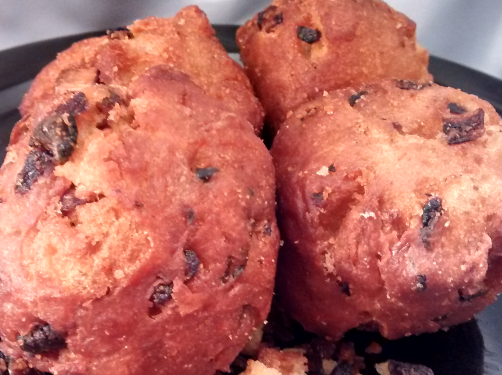 4 cups unbleached all-purpose flour, divided

.75 cup milk, room temperature

2 large eggs, beaten and at room temperature

4 Tablespoons butter, melted

2 teaspoons table salt

.5 teaspoon freshly-ground black pepper

.25 cups warm water

2 Tablespoons sugar

1 package (.25 ounce) yeast

1 onion, diced

4 cloves of garlic, minced

1 can pitted black olives, chopped

.5 stick butter

.5 cup olive oil
In a large bowl, or stand mixer, combine 2 cups of the flour, milk, eggs, melted butter, salt and pepper.
Combine the warm water, sugar and yeast in a small bowl to proof. When the yeast begins to grow, pour it into the mixing bowl and throughly combine these ingredients. Kneed in the remaining flour and place, covered, in a warm area to rise until doubled.
In a skillet, combine the onion, garlic, olives, butter and olive oil. Sauté over medium heat until the onion is tender and most of the water has evaporated. Set aside to cool.
In a deep fryer, begin heating your cooking oil to 375 degrees Fahrenheit.
When the dough has doubled, knead the fried mixture into the dough. Then pat the dough out on a floured surface. It should measure approximately 10" x 10". Using a 2" round cookie cutter, cut circles of dough for frying.
Invert a metal rack on a bed of paper towels for wicking the oil away from the fried dough.
Place a few of the dough disks in the fryer and fry until golden brown. Place on the inverted metal rack to drain and cool the dough. Serve warm.