I've always had a lot of requests for champagne cakes. So, I made them, but I was never completely satisfied with the resulting product. To me, the cake contained a lot of unnecessary flavors from the champagne, including a beer-like taste, presumably from the alcohol. At the end of 2015, I read Dave Arnold's excellent book Liquid Intelligence: The Art and Science of the Perfect Cocktail. In this book, master chef Arnold describes developing beverages using acids isolated from champagne. This approach has proven very popular in his Manhattan bar Booker and Dax. This made me wonder if these culinary acids could also be used in cakes. So I ran some labs on it and what follows is a successful recipe from those labs.
This cake offers a pineapple flavor augmented by the champagne acids. It has a soft, airy and delicate crumb with a silky, fragrant ermine (roux) icing.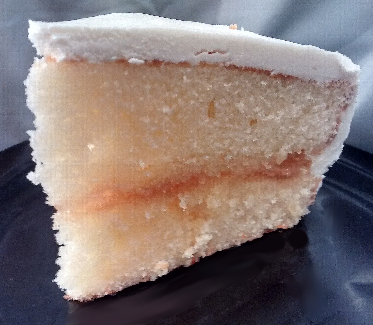 3 cups (336 grams) cake flour, sifted

1.5 teaspoons baking soda

1 cup canola oil

4 large eggs at room temperature

1 cup filtered pineapple juice, at room temperature

1 teaspoon kosher salt (or .5 teaspoon table salt)

1 teaspoon powdered culinary tartaric acid

(I use the New England Cheesemaking Company.)

1 teaspoon powdered culinary lactic acid

(I use Milliard.)

2 cups white sugar
Heat your oven to 350 degrees Fahrenheit. Grease or spray two 9"x3" round baking pans and set them aside.
Fit your mixer with the paddle attachment. Combine the sifted cake flour and baking soda in the mixer's bowl. Turn the mixer on at its lowest setting and allow the ingredients to mix for 3 minutes.
Add the canola oil and allow it to combine with the flour on the mixer's lowest setting. Continue until all of the flour is coated with the oil.
Stir in the eggs, one at a time, incorporating with each addition.
In a small bowl, combine the pineapple juice, salt, tartaric acid and lactic acid. Stir until the acids are completely dissolved. (This may take over a minute of stirring.)
On low speed, alternate mixing the pineapple juice mixture and the sugar into the batter.
When all of the liquid and sugar is incorporated, turn off the mixer and scrape the bottom and sides of the mixing bowl to make sure everything is mixed. Turn the mixer up to medium speed and allow it to beat for three minutes.
Divide the batter evenly between your pans and bake for 25-29 minutes, or until a toothpick inserted in the center comes out clean.
Cool on a wire rack in the baking pans for 10 minutes, then remove the cake layers from the pans and cool on a wire rack until room temperature.
Frosting
5 Tablespoons bleached all-purpose flour

1 cup whole milk

pinch of salt

1 teaspoon vanilla extract

1 cup (2 sticks) unsalted butter, at room temperature

1 cup white sugar
Put the flour, milk and salt in a sturdy saucepan. Using a fork or hand whisk, wisk over medium heat until it thickens to a pudding-like consistency. It should be pulling away from the sides and bottom of the saucepan when it is cooked. Remove from heat, place it in a heat-proof container and allow it to cool to room temperature (you can use the refrigerator to speed this up). When cool, stir in the vanilla.
Using an electric mixer, cream the butter and sugar for 8 minutes. It must be light, fluffy and not grainy.
Add the cooled flour mixture, a little at a time, beating well after each addition. Continue to beat until the frosting has a consistency between whipped cream and mashed potatoes.
Reduce the mixer to lowest speed and beat for 5 minutes. This will deflate the frosting to make it easier to spread.
Filling
8 ounces (by weight) of your favorite pineapple preserves