This meatless pasta sauce offers layers of flavor, finishing with a sensation of warmth without spice. Due to this piquant nature, it is best served in cooler weather.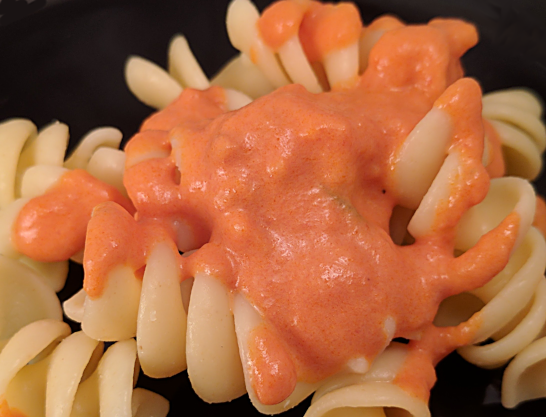 4 Tablespoons butter

.25 cup olive oil

1 medium sweet onion, diced

4 cloves of garlic, in thin slices

1 teaspoon dried, crushed red pepper

1 - 28 ounce (794 grams) can of peeled plum tomatoes

1 - 6 ounce (170 grams) can tomato paste

1 sprig of fresh rosemary

1 cup heavy cream

.5 cup white rum

1 Tablespoon honey

salt and pepper
Put the butter and olive oil into a large saucepan and place over low heat. When the butter is melted, add the onion, garlic and red pepper. Turn the heat up and sauté until the onions are soft and translucent.
Use a hand blender to pulverize the plum tomatoes. Add the plum tomatoes (with all of the juice from the can), tomato paste and sprig of rosemary to the saucepan and simmer for ten minutes. Stir as necessary to prevent burning.
Add the heavy cream and simmer for twenty minutes, stirring to prevent burning.
Remove from heat, stir in rum and honey. Add salt and pepper to taste. Remove the sprig of rosemary before serving.