Just a yellow cake, nothing more. But, what is interesting about this recipe is that it incorporates several flavors (vanilla, almond, honey, sour cream and rum) and you don't taste any of them individually. They meld into the flavor of generic yellow cake.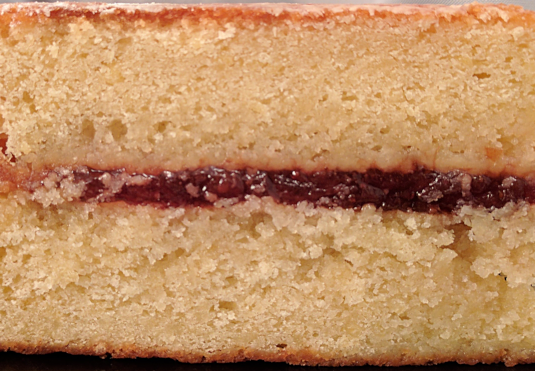 3 cups (336 grams) cake flour, sifted

1 Tablespoon baking powder

1 teaspoon kosher salt (or .5 teaspoon table salt)

2 sticks butter, cut into tablespoons, at room temperature

2 eggs, 4 egg yolks

1 teaspoon vanilla extract

1 teaspoon almond extract

1 Tablespoon honey

1 cup sour cream

2 cups minimally-processed sugar

2 Tablespoons white rum

1 Tablespoon milk
Heat your oven to 350 degrees Fahrenheit. Grease or spray two 9"x3" round baking pans. Set aside.
Fit your mixer with the paddle attachment. Combine the sifted flour, baking powder and salt in the mixer's bowl. Turn the mixer on at its lowest setting and allow the ingredients to mix for 3 minutes.
Add the butter. At lowest speed, allow it to combine with the flour. Continue until the butter has coated all of the flour. Add the eggs, one at a time, mixing thoroughly after each addition. Add the egg yolks and mix thoroughly.
Turn the mixer off and add the remaining ingredients. Turn the mixer to its lowest setting and stir until all ingredients are incorporated. Stop the mixer and scrape the bowl's sides and bottom to make sure all ingredients are mixed in.
Turn the mixer up to medium speed and beat the batter for three minutes. Divide the batter evenly between the prepared pans. Bake for approximately 33-36 minutes, until a toothpick inserted in the center of the cake comes out clean.
Cool in the pan on a wire rack for 10 minutes. Remove the layers from the pan and cool (tops up) to room temperature on a wire rack. Trim any tough edges from the cake before finishing.