Inspired by a 19th century cake recipe, this strongly-flavored cupcake will appeal to those who like their desserts to have some bite. To enjoy this cupcake, you must like wine cakes; this dessert offers a lingering taste from the white Merlot.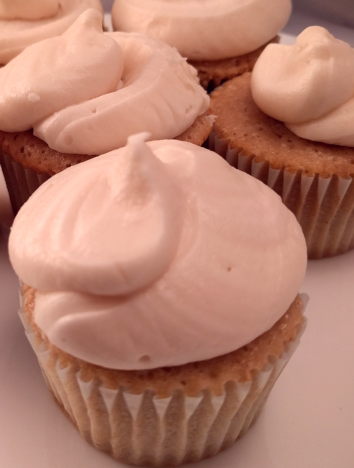 4 cups (480 grams) bleached all-purpose flour, sifted

1 teaspoon baking powder

1 teaspoon kosher salt (or .5 teaspoon table salt)

half of a nutmeg

, grated with a Microplane

1 teaspoon ground Ceylon cinnamon

1 cup and 2 Tablespoons butter, melted

4 large eggs at room temperature

1 cup of white Merlot

2.5 cups sugar
Heat your oven to 350 degrees Fahrenheit. Fill two cupcake baking pans with liners. Set aside.
Fit your mixer with the paddle attachment. Combine the sifted flour, baking powder, salt, nutmeg and cinnamon in the mixer's bowl. Turn the mixer on at its lowest setting and allow the ingredients to mix for 3 minutes.
Add the melted butter. At lowest speed, allow it to combine with the flour. Continue until the butter and flour is a gummy paste. Add the eggs, one at a time, mixing thoroughly after each addition.
Alternate stirring in Merlot and sugar until incorporated. Turn off the mixer and scrape the bottom and sides of the bowl. Stir again. Increase mixer speed to medium and beat for 3 minutes to develop the batter.
Fill cupcake containers 2/3 to 3/4 full and bake for 21-23 minutes, or until a toothpick inserted in the center comes out clean. Cool on a rack.
Frost the cupcakes
1 (8 ounce) bar cream cheese (American, full-fat)

.5 stick unsalted butter

pinch of table salt

2 Tablespoons white Merlot

4 cups confectioners' sugar
Combine all ingredients and beat on medium-low speed until incorporated and smooth. Spread on the cupcakes.